6 Comments
yem_phang
I been searching for a movie which I really don't know the exact name to it but can anyone help me… Dubbed by Mayura Hopefully I'm spelling the name right "Barat Wat Sopon" It's a horror movie I believed it came out in the early 2000's I watch the movie in 2004… the main girl was a ghost wondering around her village and a temple.. please can anyone find that movie for me🙏🏽Thank you so much
Lin
I was wondering if you have this old lakorn with Egkarat Sarasook and Sine Inthira Charoenpura. It's all about the main girl has to pretend to be a boy in order for her parents to be together since her grandpa wanted a grandson instead of a granddaughter. Below are the title, lakorn cover and link to the opening of the lakorn. I hope you would have it because I really loved the lakorn and missed watching it. Thank you for your time.
Jao Sua Noi
https://m.youtube.com/watch?v=8M7Z_hsOw7w
https://lakorns-th.blogspot.com/2015/05/2543.html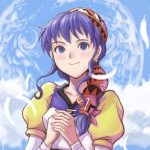 sayonara
Paula, can you upload more Robang Muk Keo next week? You've got a big movie fan waiting for more Episodes….
Thank you
Aiyah
I was wondering if anyone has these old drama dubbed by mayura, "Yod Ya Yee" with num and Vicky Sunisa Jett and
"Ruk Sood Hua Jail or Srolang Bin Besdoung" with Janie and Pol. If you do, pretty please upload them whenever you have time. I hope that more old mayura dub Thai drama are uploaded.
Thank you.
Hopefully the links well help know what drama I'm referring to.
https://m.youtube.com/watch?v=lp9d9bL4Has
https://m.youtube.com/watch?v=iDnRu2ypU5g