39 Comments
Hey guys, I'm in the process of fixing Emperor's Harem and Paladins in Troubled Times. Was asked to re-add Strange Hero Yi Zhi Mei too.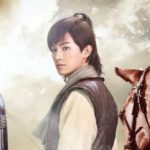 Over 1,500 links have been removed. Here are the list:
Princess Pearl 2011
Qixia
Holy Pearl
Jade Palace
Meteor Butterfly Sword
Dali Princess
Emperor's Harem
The Legend of Crazy Monk
Princess Pearl 2
Bao Tian 2010
Bao Tian 2012
Wu Mei Niang
Twin Dragon
Where The Legend Begins
Rose Martial World
Beyond the Realm of Conscience
When Easterly Showers Falls on the Sunny West
Ultimate Crime Fighter
The Four
Forbidden Love
Safe Guard
Strike at the Heart
Lost in the Chamber of Love
King of Gambler
Perish in the Name of Love
War and Beauty
Legendary 4 Aces
Thunder Angels
Grace Under Fire
Relic of Emissary
Justice Sung Sir Jear 2
The Price of Greed
In the Realm of Fancy
Winter Melon Tale
Rosy Business 2
The Brink of Law
Who's the Hero
Please update your post Rei, thank you!
Thanks for the notice AoD. I'll work on that this week since mist will be working on Jade Palace.

hey guyz i notice lots of my vids removed pls post what u find here so i re upload. thx!

Most of our videos got removed last week. Mist probably lost around 2,000 videos but he'll probably recover everything by the end of the week lol.

Hey looks like the links for Golden Warrior and Princess aren't working.
Just wanted to let you know.
Hopefully someone still has the videos somewhere? >~<

Hey Tara, I'll try to get that series fixed by tomorrow. Thanks for looking out. =]

Yay! I see it now. Thanks for much!

Black Mist, can u fix Heaven Burns pls? thx

ramy all set now to watch

Chenna can you please fix "knock knock loving you" Thanks.

@ Ramy, yes either me or theary will upload tthem onced it's release 🙂

Ramy

Hey Chenna, I used to see "The Four" drama before, but now i can't find it anymore. Is someone remove it from the website? I refer to The Four that have long episode, and film by Raymond Lam and the other three not the short one.

i Ramy I did had the four. i must of removed it when my links were broken. i'll try to look for it back n post it up for u soon

I'll look for a fix but admin told me it is permanently removed from the listing.

It's all set now Ramy, and no problem.

hjj.i do like all movie u post here.do u have this moviehttp://www.youtube.com/watch?v=LU6rxyzGuLA.if u have plz up for our fan of khmeravenue

tracy visita

Hi Rei. Do you still have the movie called Xing Ming Shi Ye ? It was posted only for a short period of time and now I cannot see it anymore.

All my video links on this site are either broken or removed. I'll try my best to complete Xing Ming.

oh no …what happen ? I love all your videos…all your hard is gone to the drain 🙁 . did you ever find out if it all got deleted or just broken link? i hope they all back on