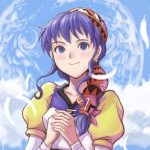 chenna@ Chen Chean Sne Pjorb Nisai
8/29/2018: Episodes 2 to 8 are now fixed.
8/29/2018: Episodes 15 to 20 added.
Note: Videos are never stored or hosted through KhmerDrama (AKA Merlkon). All videos are embedded by our members, publicly available through third party video streaming websites such as Youtube, Daily Motion, Vimeo, and Facebook.
Posted by:
chenna
Series has 30End episodes
August 25, 2018
Last updated on September 1, 2018
HD Videos lakorn, HD Videos TV Drama