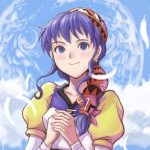 chenna@ Vetamon Pnek Pous
English title: Net Na Khin
Note: Videos are never stored or hosted through KhmerDrama (AKA Merlkon). All videos are embedded by our members, publicly available through third party video streaming websites such as Youtube, Daily Motion, Vimeo, and Facebook.
Posted by:
chenna
Series has 20End episodes
February 6, 2019
Last updated on March 13, 2019
Thai lakorn, Thai TV Drama
Sreynich
thanks please add more of this drama lakorn!...